Scott Harvey Wines was created out of market demand for Scott's wines – "niche wines that over deliver." The Scott Harvey line focuses on Scott's roots – Barbera, Zinfandel, and Syrah from the Sierras. Approachable, food friendly and full of luscious fruit, these wines have struck a chord in the marketplace.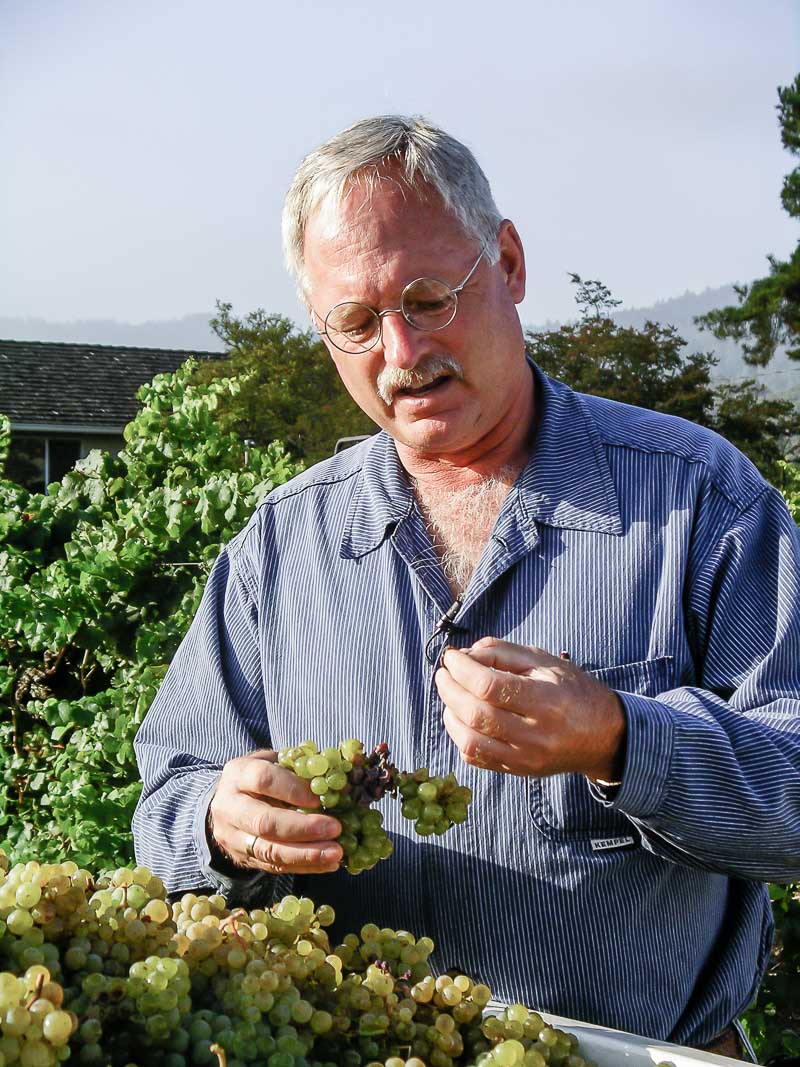 Someday someone will create an Amador County Vintners Hall of Fame. Scott Harvey is a lock to be among the first inductees. He not only has been a presence on the Amador County wine scene as long as anyone, he has been at the forefront of just about every step the area's vintners have taken to understand and promote intelligent and daring grape growing and winemaking.
As other California winemakers, he as looked to Europe for inspiration and guidance but consistently applied the lessons he learned to varieties of grapes and styles of wine that speak of the state, not Europe.
During the boom in white Zinfandel sales during the 1970's, for one, Harvey drew upon his winemaking training in Germany to create an interpretation that broke radically from the soft and sappy style that dominated the market. He worked at fine tuning the wine as if it were a vintage Mercedes Benz, calibrating acidity and residual sugar until they hummed with balance and vigor. He locked in a touch of carbon dioxide to give the wine a buzz of refreshing effervescence. Pointedly fruity, a little sweet, refreshingly crisp and a bit spritzy, his "White Harvest Zinfandel" was the most ambitious, imaginative and critically successful member of the game.
In recent years, he added to the back label of his wines a graphic scale that with a glance gives browsing consumers some idea whether the wine in the bottle is in a lighter or heavier style. It is a simple bar with "Elegant" at one end, "Overly Jammy" at the other. With each wine, his winery's emblematic griffin is positioned somewhere along the bar between the two extremes, closer to one or the other.
When the griffin is close to "Overly Jammy" the wine is big, bold, complex, relatively high in alcohol. By standing out for their heft, these are the kinds of wines that tend to win high honors at competitions and to get high scores from prominent critics.
On the other hand, when the griffin is close to "Elegant" the wine is lighter, sleeker, more readily approachable, relatively low in alcohol. If these wines stand out in a crowd it is because they are supple, elegant, ready to drink today, best suited for having with dinner.
Given Harvey's longevity, prominence and inventiveness in the Amador County wine trade, colleagues and consumers alike listen to him. For nearly 50 years he has been talking up Barbera as the one black grape and red wine that ultimately will be the most highly regarded in Amador County even eclipsing the long reigning star, Zinfandel.
He bases his projection on similarities between the terrain and climate of Amador County and the northern Italian region of Piedmont, which historically had produced the world's most articulate expressions of Barbera.
"Barbera has the potential to be Amador's best variety. It lends itself to the terroir better than Zinfandel or Syrah," Harvey says. "Our grandkids will survive off Barbera sales, not Zinfandel sales," he confidently predicted a decade or so ago as I gathered material for a Sacramento Bee feature.
Each vintage, Harvey customarily makes three Barberas under his label Scott Harvey Wines – a fresh and buoyant take labeled "Mountain Selection:" a more structured and concentrated version labeled "J&S Reserve;" and his luxury-line "Cattedrale," made from what he considers the vintage's top five barrels of Barbera. (The "J&S" stands for "Jana', his wife, the winery president, and "Scott;" "Cattedrale" is Italian for "cathedral").
In breeding, each to a varying degree captures Barbera's inherent charms – radiant blueberry, raspberry and cherry fruit, a build more sinewy than muscular, tannins taking a quick bow before abruptly leaving the stage, and a steadfast alertness from the grape's naturally high acidity.
Harvey approaches each with the same tinkering exactitude he brought to white Zinfandel four decades ago, but the one that looks to draw his most patient attention is the "J&S Reserve". "He abhors the 'doughnut" effect in any of his wines, meaning a wine without a middle. As a consequence, he is apt to call upon some other variety to fill that void or to compensate for some other shortcoming in Barbera, though never enough to distract from Barbera's anticipated pizzazz. It could be Petite Sirah or Zinfandel or Syrah or even a splash of his port-style dessert wine Forte, all added to enhance rather than diminish Barbera.
He works from a well-stocked toolbox, which extends to finding and taking advantage of more than one Barbera vineyard in Amador County, and every year, thanks in no small part to his lobbying for the variety, he has more choices from which to pick.
In the summer of 2021, Harvey promoted Mollie Haycock, his protégé as assistant winemaker for six years, to day-to-day winemaker at Scott Harvey Wines. He is sticking around as executive winemaker, however, continuing to search for local vineyards to help him elevate even more Barbera's standing in the region.